Chico Expungement Attorney
Experienced Representation From Our Chico Expungement Lawyer
Are you looking to clean up your criminal record and get a fresh start? In certain cases, relief can be obtained through expungement. Under California law, only specific circumstances will qualify you for this process. To determine if you are eligible, we recommend that you contact our firm, Robert L. Marshall, Attorney at Law.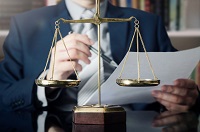 Our Chico expungement attorney practices criminal law exclusively, which gives us a unique advantage. Bob thoroughly understands the local criminal justice system, its court procedures, and personnel – he can use his considerable knowledge and skills to advocate on your behalf in this matter.
---
Are you seeking an expungement in California? Call our Chico expungement lawyer today at (530) 212-7766 or contact us online to get started!
---
What Is Expungement in CA?
With a few exceptions, there is no such thing as a true "expungement" in California. Criminal records do not expire and are considered to be public records, so they remain accessible to anyone running a routine background check. After having a record expunged, however, your criminal conviction will show up as "expunged" on checks. This means that a potential employer cannot deny you a job under these circumstances and you can legally answer "no" if asked whether you have any arrests or convictions.
Who is Eligible for Expungement in California?
Generally, those who may apply for expungement include:
Applicants who have successfully finished probation for a misdemeanor or felony without being incarcerated
Those who are not currently charged with a crime or on probation for a crime
Those who are not serving a sentence for a crime
Keep in mind that certain convictions – such as sex offenses involving children – can never be expunged.
Let Our Chico Expungement Attorney Fight For You
Understanding expungement and determining whether you are qualified will require the knowledge of a skilled Chico criminal defense lawyer. Our firm has helped hundreds of individuals with all manner of criminal defense matters in Chico, Oroville, and the surrounding areas. We are here to help, never to judge. Our goal is to assist you so that you can move forward with a fresh start.
---
Contact Robert L. Marshall Attorney At Law, at (530) 212-7766 today for a FREE consultation with our Chico expungement attorney!
---